` I "borrowed" these quotes from MAD MAGAZINE'S resident sage~
ALFRED E. NEUMAN
"Getting old is when a broad mind and a narrow waist trade places".
"Teenagers are people who act like babies when they're not treated like adults".
"Have you ever noticed that political promises are usually in one year and out the other?"
"Most people are so lazy,they don't even exercise good judgement".
"The trouble with learning from experience is that you get the test before the lesson".
"Ever notice that the people who say,"That's the way the ball bounces' are usually the ones who dropped it?"
"A teacher is someone who talks on our sleep".
"An argument is two people trying to get in the last word first".
"America is a land which fought for freedom and then began passing laws to get rid of it".
"You know the world's in trouble when it takes 2000 laws to enforce 10 commandments".
"If banks are so good with numbers,why are there 3 tellers and 8 windows?"
"A racetrack is where the windows clean the people"
"A lawyer is someone who writes a 30 page document and calls it a brief!"
"The dollar will never fall so low as what some people will do to get it."
"There was a time when a preachers' Little Black Book was the Bible".
"The distance between many people's ears is a block".
"Most people can't stand a poor loser...or a rich winner".
"These days the problem with many neighborhoods is that there are more hoods than neighbors".
"The reason that money doesn't grow on trees is because the banks own all the branches".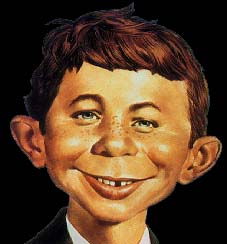 VISIT THE MAD HOME PAGE